Meet the trainers
Our trainers will help you to understand the impact and surprising benefits of being on the Autism Spectrum. Through personal experience and extensive knowledge, the team will provide you with the skills, knowledge and confidence to meet the needs of your service users company and clients.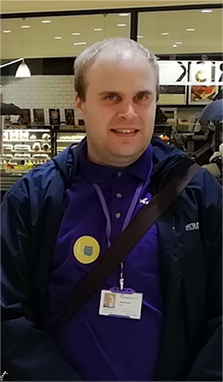 Robert Lamb
Robert Lamb is 29 years old. He was diagnosed with Asperger's Syndrome at age 14 and has been working for Sycamore Trust UK for 5 years and is a pillar to our training team. His hobbies are photography, music, comedy films and TV programmes and video gaming. With Robert at a presentation, you are guaranteed some real-life stories to enlighten your awareness and understanding and examples from his past as an autistic person, as well as a bit of a laugh!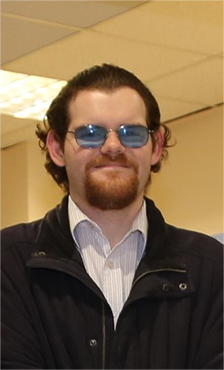 Alex Rowley
When Alex Rowley (27) was diagnosed with Asperger's Syndrome aged five, his mother was told that he was destined for no education, friends, or employment, and eventually institutionalisation. Now he is an MA student with a fiancée and a lot of stories to tell. This outstanding, driven young man has spent his adult life helping other young people to tell their stories, studying autism and equality further at undergraduate level.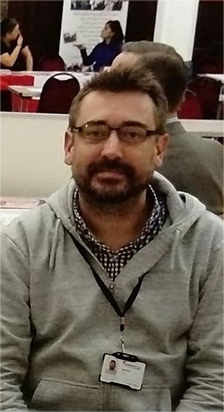 Matt Dyde
Matt Dyde has been part of the team since April 2016 and he supports Alex and Robert to develop and deliver their training programme.  He has extensive experience working with children, young people and adults on the autism spectrum. Robert, Alex and Matt have delivered over 200 presentations in the last three years, and the programme in total has reached over 8,000 people since it began in 2015.
We are able to tailor our courses to your need, be it for a large Corporate organisations or and any other enlightened organisations that request our training. Click here to find out more on how we can support you and your team.
My Challenge with Change
Hello, my name is Robert Lamb. I am 29 years old and was diagnosed with autism when I was 14 years old. One of the biggest challenges I face from being on the autism spectrum is dealing with change. I am much better now than I used to be with coping with
small changes (e.g. having to take a different route to work or meeting new people), but bigger changes (e.g. getting used to a new system or method of working) can still overwhelm me at times. I will give you a few examples
throughout this article of some periods in my life when I have undergone some large changes. The examples come mostly from during my time in education, however, there are some examples from my current working life too.
Let me start by taking you back to Year 5 in primary school. I remember this was quite a difficult year for me, as our original teacher sadly became long-term sick, so this meant having lots of cover teachers throughout the year. This made me feel overwhelmed,
uncomfortable and anxious, especially as some of the teachers were more supportive of my needs than others. My mum constantly liaised with the school to try and get me some support, but it was proving a very long and hard struggle.
Things did improve a little in Year 6. My prospective secondary school invited the SEN students at my primary school (including myself) into the school for a taster day. I found this very helpful, as the school was much bigger than my primary school and
it helped me realise that I would be going to lots of different classrooms and working with several different teachers. One of the teachers from my secondary school also came to visit my primary school and set us an assignment
to do over the summer holidays. This made me feel overwhelmed, as I wasn't used to doing large assignments over the school holidays. However, with support from my parents, I managed to complete the assignment and I gradually
got used to the new way of working. Once I got to secondary school, the next major change was getting diagnosed. The SENCO at my secondary school invited my parents and I into a meeting with my Outreach Support Worker and she,
where we discussed next steps in terms of getting diagnosed and further support from the school. I was referred to the local Child and Adolescent Mental Health Service, where I had some appointments and underwent some tests
with the psychiatrist before getting a letter saying that I had been diagnosed with Asperger's Syndrome. Being diagnosed fundamentally changed my life. It helped me answer some questions that I had been asking myself at this
point, like "why am I different?", "why am I being bullied?" and "who am I really?". However, this posed me a new challenge: not only did I have to try and come to terms with the diagnosis and consider where I required and
didn't require support, but also others' perceptions of me. Once I began my A-Levels, at age 17, I felt the desire to become more independent. Therefore, I set myself my own challenge to start socialising more and travelling
independently. The biggest challenge within this was gaining the confidence to do this, as I hadn't socialised independently before, so this was completely new to me. I began by going on short trips to local town centres with
a few friends, looking around the shops. As my confidence grew, I started to go to places like the cinema. Fortunately, I had enough confidence at the time to go to my Year 13 graduation prom too!
Socialising and travelling independently put me into good stead for going to university. When I filled out my UCAS application, I declared I had Asperger's Syndrome. Once the application had been processed and the offer of a BSc Geography degree at the
university had been accepted, I received a letter from the Disability and Dyslexia Service at the university, introducing me to the service and inviting me to an appointment. At the appointment, I was told the range of support
the service could offer me: a weekly PhD student mentor, assistive technology and doing my exams in a separate room. This helped me immensely, for I may have struggled without support and may not have got the degree classification
that I did. However, this did not mean starting university was without its challenges. Firstly, I had to travel to an area which I was only slightly familiar with. Secondly, I had to get used to the much more flexible way of
working, including more independent study. This was without meeting new lecturers and students, as well as making new friends! However, I embraced this change quite quickly and thoroughly enjoyed being at university.
After university, the next big challenge was looking for work. The first obstacle exclusive to me as a person on the autism spectrum was deciding as to whether to disclose my Asperger's Syndrome diagnosis on my CV and application forms. This was on top
of the universal stresses of job-seeking. I had registered to receive Jobseekers Allowance, so had to get used to applying for a certain number of jobs per week and signing on every two weeks. I had to learn and accustom myself
to writing good CVs and application forms, which did cause me a great deal of stress. I also had to manage the feeling of the lack of progress in getting a job and the feeling of rejection, which made me feel very deflated.
This went on for about two years, before I was eventually offered my current job of Project Co-ordinator of the Autism Ambassadors project at Sycamore Trust U.K. The only challenges I faced at first were getting used to the new routine and meeting new
people. However, because I work at a charity which supports and empowers people with autism, the employers were aware of the support that I needed and put this into place very quickly.
So, five years on, although I have taken a long journey to independence and success with several obstacles along the way, this is me now! A Project Co-ordinator who delivers awareness training of my own disability to a wide variety of sectors. I know
that this involves meeting new people and visiting new places, but this is one challenge that I'm now not afraid of and, in fact, I'm even excited to see what new people and places I'm going to be visiting!
Robert Lamb